Overview
Product Summary
Pismo has an idealistic, simplified look. With defined lines and a variety of finishes, you can seamlessly upgrade to a contemporary style. Pismo can feature a round or square rose, so you can select the look you want for your home.
Kwikset is America's #1 selling lock. This Kwikset 730PSK SQT Pismo privacy door knob set fits the standard bore hole of 2-1/8". All sets come with 2 knobs, 2 rosettes, latch and all mounting hardware needed for a complete privacy (Bed/Bath) knobset. If you have any questions at all or would prefer to order by phone please call (866) 259-8901. We are here to Help!
Features
Features adjustable latch to fit all standard door preparations
ANSI/BHMA Grade 3
Kwikset door knobs are available in multiple styles and finishes
Lifetime mechanical and finish warranty.
Specifications
Door Prep: Cross Bore 2-1/8", Edge Bore 1"
Backset: Adjustable to 2-3/8" or 2-3/4"
Door thickness range: 1-3/8" to 1-3/4"
Product Identifiers
00883351717779
Technical Documents
Questions & Answers (2)
Question:

What if some doors are thicker like 2 1/4 thick. Can I still use these door handles

Asked by Caren litkowski on June 1, 2020

Answer: Caren, Unfortunately, no.

Answer provided by Michael on June 1, 2020
Question:

i need about 35-40 of these door handles, any bulk pricing?

Asked by claude on December 27, 2019

Answer: Claude, Please reach out to sales at 866 259 8901 on Monday and someone will be happy to email you a quote.

Answer provided by Michael on December 28, 2019
Reviews (4)
Customer reviews
4 ratings
Easy to install and looks great. I love the feel of this door knob. They've been installed for a few months and haven't noticed any wear.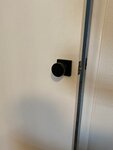 Great heavy duty knobs with a great look
Nice Door Handle, easy installation.
Such an upgrade from the brushed nickel lever door handles we had. And since you have to turn these, our 2 year old can no longer open shut doors without out help.