Overview
Product Summary
Make Your Lock Smart
Introducing Level Lock, the first invisible smart lock – designed to install inside your door in minutes to transform your existing deadbolt. Now you can get all the benefits of a smart lock and still maintain the design integrity of your home. Use your phone to lock and unlock your door, share access, and always know who's coming and going.
Premium
Level Lock's quality craftsmanship and design demonstrate a level of detail not found in any other smart lock. Its unique puzzle piece interface ensures a secure fit in your door and its battery is creatively hidden inside the bolt to make the occasional battery change simple.

Powerful
Level Lock boasts a patent pending, 6-stage, stainless steel gear box that's both powerful enough for the toughest conditions and efficient enough to deliver over a year's worth of battery life from a single CR2 battery. Level Lock exceeds the power and efficiency of other smart locks all within the tiny space inside your door.

Secure
Engineered from the ground up for strength and durability, Level Lock exceeds the highest industry standards and is stress-tested to over 1,000,000 cycles. Its mechanical operation is 100% available for reliable egress, never leaving you stranded.
Features
Homes with both iOS and Android Devices:
Invitations: Share access with friends and family based on specified time and day
Keyless Entry: Use your iOS or Android device as a secure key to lock or unlock your door
Auto Lock: Have your door automatically lock based on designated time settings
Activity History: Keep track of all activity so you always know who's coming and going
Access Anytime: Give access to people when they're at your home and you're not
Apple HomeKit Features (Requires HomeKit™ or HomeKit Hub)
Auto Unlock: Use HomeKit™ to have your door automatically unlock as you approach
Voice Control: Use Siri® on your iOS device to lock or unlock your door
Notifications: Get notified when friends arrive or when it's time to change the battery
Remote Entry: Unlock your door from anywhere using your iPhone® or Apple Watch®
Automations: Create schedules and routines that automatically run for common tasks
Specifications
Adjustable 2-3/8" or 2-3/4" Backset
How will Level fit in my home?
Level was designed to work with most American standard deadbolts and requires a properly operating door and latch. See our compatibility guide for more information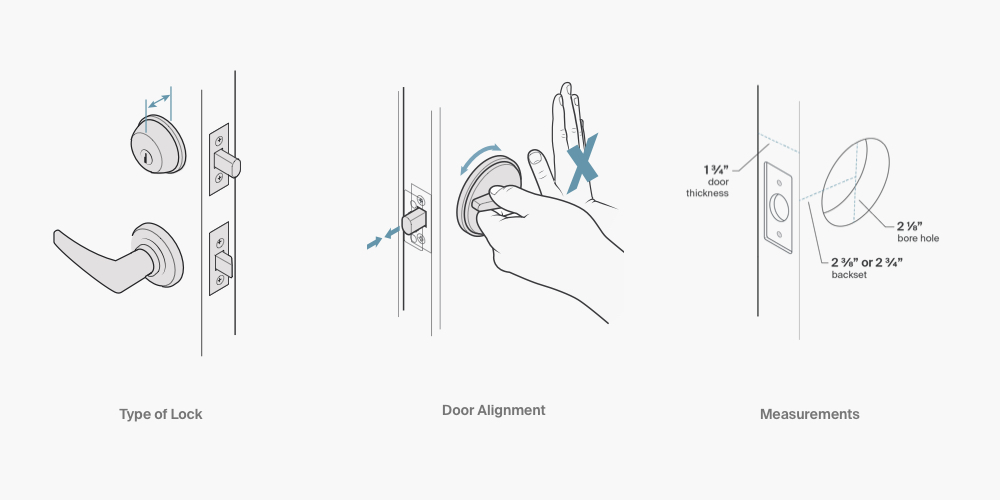 Product Identifiers
Technical Documents
Instructional Videos
Install your lock
Reviews (0)
Customer reviews
Be the first to review this product.