Overview
Product Summary
Meet Level Touch
The smallest, most capable lock ever.
Level Touch brings all-new capabilities with none of the compromise Elevate your sacred space with a refined smart lock that makes technology invisible.
Impossibly Small - By hiding technology on the inside of the door, Level Touch is the smallest smart lock ever made.
Effortless Access - Lock or unlock your door with a touch of your finger, key card, phone, or even a plain old key.
Designed for Living - Share a convenient way for all your friends and family to access your home, in the way that works for them.
Precision Built - Designed from the ground up with no detail overlooked.
Stay Connected - Access from anywhere, lock and unlock with Siri™, run automations, and more when you add Level Touch to Apple's HomeKit.
Say Goodbye to Bulky
By building upon our patented Bolt platform, we made Level Touch as small as a regular lock. We've miniaturized technology components into the lock face so you can now access your home with touch, NFC, and more — all without an unsightly box on your door.
Power, Meet Efficiency
Level Touch uses a patent-pending, 6-stage stainless steel gearbox that's both powerful enough for the toughest conditions and efficient enough to deliver over a years worth of battery life form a single CR2 battery.
Strength You Can Feel
Level Touch is built with a combination of 4400 stainless steel and strengthened metal alloys Certified BHMA AAA to meet the highest industry standards for security and durability.
Features
Level Touch supports iOS and Android Devices:
Touch: Lock or unlock your door With the touch of a finger.
Key Cards: Use programmable key cards for phone-free access.
App: Control your lock securely With the Level Home app.
Auto-Lock: Lock your door automatically With a selected delay.
Auto-Unlock: Automatically unlock your door When you return home.
Sharing: Give family and friends access based on specified times and days.
Activity: See recent activity, as well as who's come and gone.
Passes: Easily send an imitation to a group of friends Via email social media or text.
Audio: Hear a confirmation chime When you lock or unlock your door.
Available with Apple HomeKit™
Remote Connectivity: Check the status and use your lock When away.
Voice Control: Ask Siri to open, close or check the status of your look.
Automations: Unlock your door upon arrival set a schedule to lock and more.
Notifications: Know when someone's come and gone While away.
*Some features require a HomeKit hub
How will Level fit in my home?
Level was designed to work with most American standard deadbolts and requires a properly operating door and latch. See our compatibility guide for more information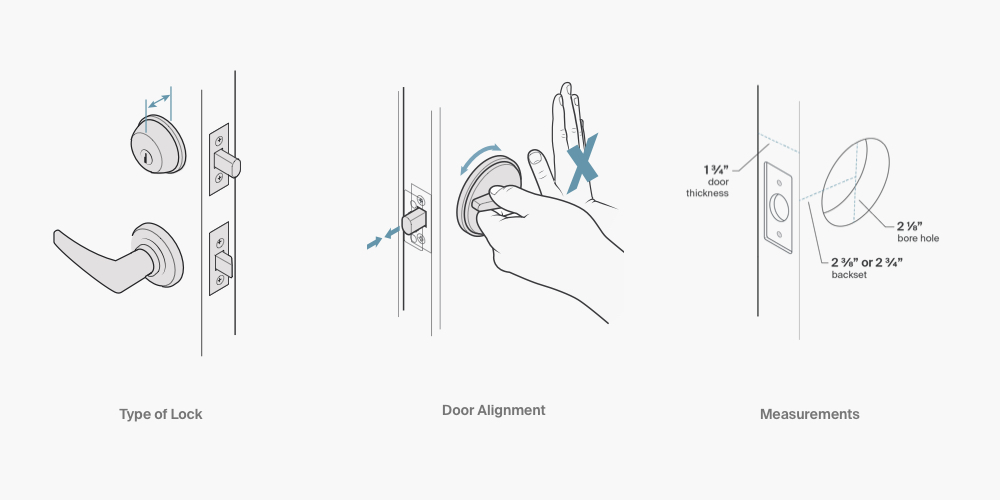 Product Identifiers
00850009337047
Technical Documents
Instructional Videos
Install your lock
Reviews (0)
Customer reviews
Be the first to review this product.